■ The Igbo man is destined for success and we succeed but we do not manage our successes effectively.
■ The present government of Nigeria is doing so much against the Igbo People, telling that they don't belong.
■ Pull Igbo down strategy seem to be the present government policy.
■ The Igboman can fix Nigeria using egalitarianism.
■ With Igbo presidency or an Igboman at the top, Nigeria will experience explosive economic growth

WAP Exclusive Interview  |  Njideka Chukwujama
Dr. Chukwuemeka Pius Ezeife, Okwadike (chieftain) is the first executive governor of Anambra State, on the Social Democratic Party (SDP) platform, holding office from 2 January 1992 to 17 November 1993. He is an embodiment of knowledge, a renowned economist of international repute with sound accomplishment in his chosen endeavors. He was a lecturer at Makarare University College, Kampala, Uganda, a Teaching Fellow at Harvard University, and a Consultant with Arthur D. Little in Cambridge, Massachusetts. Ezeife joined the civil service as an Administrative Officer and rose to the position of Permanent Secretary. During the Nigerian Fourth Republic Ezeife, who describes himself as a social democrat, was appointed presidential Adviser on Political Matters to President Olusegun Obasanjo. In this discussion with Njideka Chukwujama, Dr. Ezeife discussed the importance and need to restructure Nigeria through Igbo presidency.
WAP: Give us a little introduction about yourself, Sir
I am chukwuemeka Ezeife, born in this great town, Igbo-Ukwu in Aguata, I landed here as soon as I was born and I came in as a Christian and as Igbo. Then I tried teaching, on the night of independence, I was in Osumenyi as a small headmaster and we had an independence carol with bands playing around the whole town, celebrating what I thought has come to become the greatness of Africa and the black race, not knowing that it was going to be failure. And I worked in the civil service from there I went back to America and to Harvard and I came back to civil service from Harvard. On my way to Uganda I stopped in Lagos and there I was given an appointment with an interview (that was in 1973 when things were good in Nigeria). So, I did not go back to Uganda to continue with my lecturing job, later in life I became federal permanent secretary (the highest position in civil service).  I retired from civil service in 1895 and I decided to try in politics and I made promise to Anambra people that if my becoming governor of the state is for my personal interest that god will make impossible but if it is for the interest of the people then God will make come to pass, although God did not make it easy, but he made it possible and that was how I became a governor in Anambra State. During my reign I changed many things in the state and because I knew that state don't have money, I handed over Nnamdi Azikiwe University and Oko Polytechnic to the federal government and that is why they are surviving otherwise, during the time when salaries were not paid it could have collapsed.
WAP: You are a core Igboman and a front-liner in the issues concerning Biafra and the Igboman at large; can you recall where you were exactly when you heard that there has been an outbreak of war between Biafra and Nigerian government?
Well, that does not go fine enough but I was in the USA at Harvard University when the war actually broke out but the problem started long before that and I was in Nigeria. So, I did not participate in the fight but everybody from me did. My immediate younger brother, second and third younger brothers and even my cousins participated but because I was not home I did not participate and if I had been home, I will surly join the fight.
WAP: What were your reactions to the hostility on the Biafrans before the war broke out?Let me start from the beginning, there was a coup in 1966 lead by the late Gen. Nzeogwu but in which every major tribe and even minor tribes in Nigeria participated and from what we understand later, the young military men were not satisfied with the performance of the government of the day, and in their own judgment, the person who brought the first television station and the first free education in Nigeria whose name is Chief Obafemi Awolowo, was seen as a capable person to lead Nigeria to her destiny of success. But that person happened to be in prison instead of leading Nigeria so; they (young military men) decided to over throw the government, bring him out of prison and install him as prime minister of Nigeria and that was it. But we, the Igbo people have a problem especially we, the Anambra part of Igbo.
WAP: Do you think the Igbos are hated or marginalized in Nigeria and why?
One person from Tiv land came to live with me in Abuja for three months and one day I asked "why are the Igbos hated by every other tribes in Nigeria?' and he took his time to tell me what he knows. He said, "an Igbo man come to a town or village empty handed, and begins to look for very unknown small industry or economic activities, gradually he begins to put articles on a table and then develops a shop and not after, he built a palatial house. Palatial compared with the ones built by the villager who were there before he came. Well that is success isn't it? Yes. But then, the same Igbo man will sit in front of his palatial house with his friends and see a Tiv man passing and he will shout 'that foolish man, I saw him when I arrived and up till now he had not built a chicken house'. That's our problem, by God's Grace the Igbo man is destined for success and we succeed but we do not manage our successes effectively. Remember the xenophobia in South Africa, any South African girl who sees an Igbo man that proposes to her will jump at the offer rather than marrying a South African Man if an Igbo is ready. So what is the offence that the Igbo man has committed? Possibly none, but then, our talking, our mouth we use it to blast everything up. So, our problems as Igbos, especially as Anambra is too loud talk, arrogance, without thinking of the consequences, we don't give respect due to others. So, it is our problem that we are too loquacious, arrogant in out talks, that's the problem.
WAP: Seeing the ill-treatment given to the Igbo in Nigeria, would you subscribe to the current clamour for the secession of southeast states as Biafra State?
There are people who are intelligent, knowledgeable who are blaming IPOB and MASSOB for their activities, those people are wrong. You cannot beat a child and at the same time ask the child not to cry. The present government of Nigeria is doing so much against the Igbo People, telling them that they don't belong. First, individual Igbomen were being pulled down from wherever they are. Pull Igbo down strategy seem to be the present government policy; they want to push Igbo out of Nigeria, how? Ibeto was the biggest importer of cement in Nigeria but he had to be pulled for somebody else (a non Igbo) to arise, then, since Buhari came in power, no south eastern person is in the national security organization where Igbo is in fact the second of the tribes in Nigeria. There are so many cases of pull Igbo down strategies, we all know of Ifeanyi Ubah who owns the largest petroleum storage facility in Nigeria, he was taken to Lagos, Abuja just to be disgraced but eventually, he survived. There is another case of innoson, the only person who set up a car manufacturing company and he is producing fantastic cars, but Innoson was taken with his pants to Abuja, humiliated to the extreme, why? No offence. Eventually, the Supreme Court in Nigeria made winner of the case he had with a bank in Nigeria. There is a businesswoman Chief Stella Okoli who was awarded honors the same day I was awarded honors by Nnamdi Azikiwe University, she set up Emzor Pharmaceuticals, the Federal Government closed down Emzor for no justifiable reason and only opened it after some of us started shouting. Our people are traders mostly, import from abroad and sell in Nigeria, but when our people import these containers it will be seized by customs and will be sold to the Northerners and our people will now buy their own goods/containers from those northerners. I was not aware of that till they came to beg me to ask the customs to allow them buy directly from them even though they had already paid for the goods. Then again, you know about our exclusion from the recent covid 19 palliatives, our exclusion from the railway project, we are the only zone (south east) excluded from earning from the jumbo loan the government was giving out. There are too many cases of this exclusion but let's stop here,  then of course we all know of the killings of our young ones, at Aba, Onitsha, Enugu, Port-Harcourt, Ebonyi, etc. our young men were massacred. The body language of the government and the defiant and impractical actions of the government shows only one thing which is the desire to push Igbo out of Nigeria.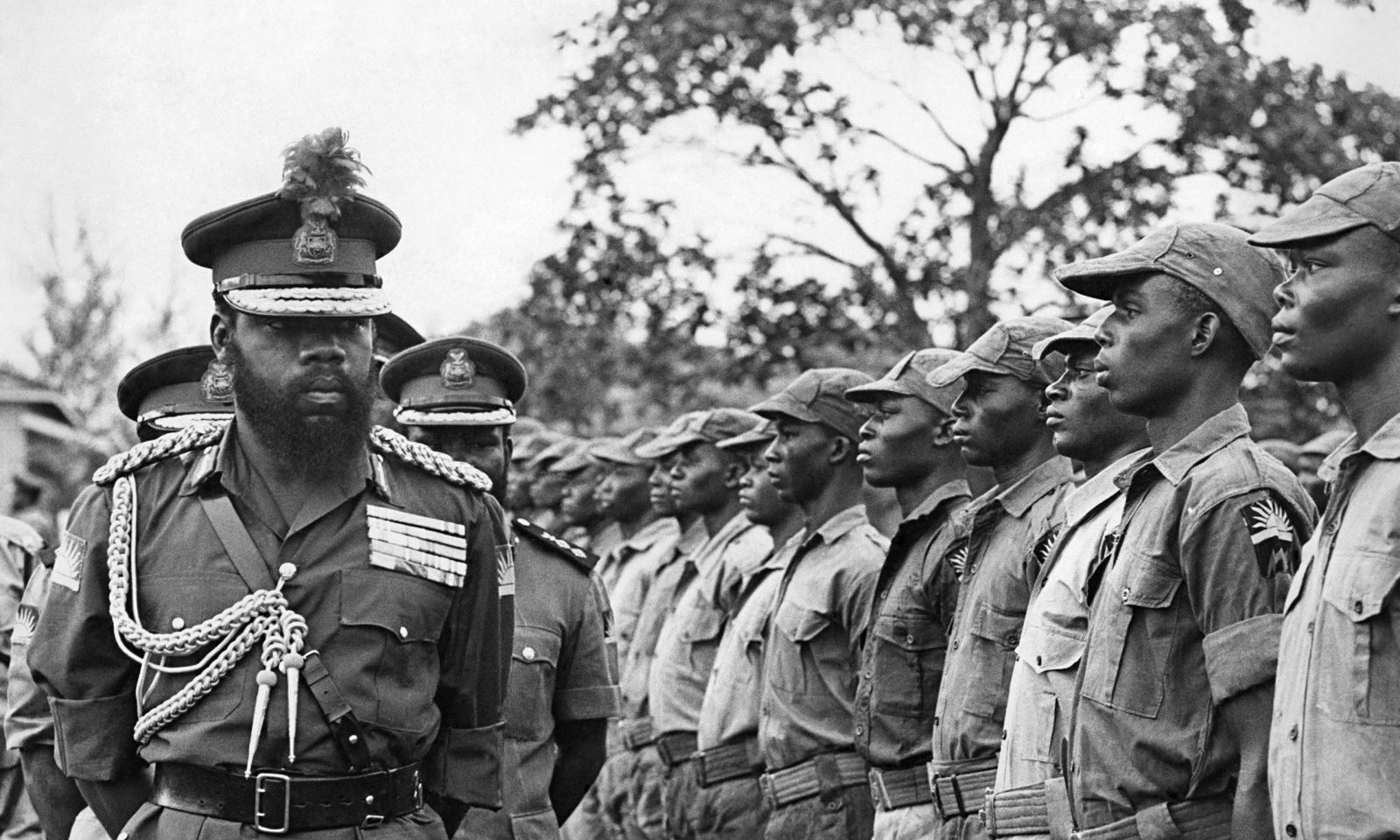 WAP: Do you think Nigeria as a nation needs to be restructured or should Biafra (southeast) be pulled out to be a state of its own?
You see, it is not IPOB or MASSOB that is pushing or pulling Igbo out, it is the government, but some of us the elder persons still have interest in the survival of one Nigeria and for that we say, let there be restructuring. But what do we meant by restructuring?  In 1945 to 1956, the country was doing very well at a point, the world bank said, parts of Nigeria is growing faster than the rest of the world and those parts of Nigeria are the eastern parts and some of the Yoruba (western) perhaps. So, there is a structure that was prevalent during that time we were growing faster than the rest of the world, that structure allowed each zone or region to grow at its own pace. We had three regions, east, west and north and by the addition of mid-west we had four, so, we saw it as the structure that was made for growth. So, when we say restructure we mean, go back to that structure that we believed was made for growth and today we have six zones which is closer to region. So, restructuring requires us only to go back to what we knew and it worked, but, because of the Niger/Biafra civil war, the federal government wanted to win it fast and at all means and to achieve that, they made sure that Ojukwu does not command a larger group and they ended up creating 12 states with Igbo carved out for the east, staying alone and the rest of the eastern regions were scraped out so that Ojukwu's command does not have effect on them. So, after the war, instead of going back to the working structure, we now have 36 states plus Abuja as a virtual state, what is more? The military killed our federal system and made a unitary government, so states have to go to Abuja to get permission for everything they need, so, that is the most important structural change. They went to Ghana to a town called Aburi and reached an agreement on how to run Nigeria, to let the regions be on their own and make a federal government not too powerful , powers belong to regions then, things like currency, weight and measures, diplomatic representations and few other such things was for the federal government. But that was reversed and everything is now with the federal government
WAP: Do you believe that restructuring Nigeria will bring equity and fairness especially, to the Igbo?
I must say, some other people don't know what is restructuring, some thinks that restructuring means resource control in the sense that money from oil does not get to the sectors except where it comes from, but that is not so although I don't want elaborate on it here and now. Some of us believe that if we get back control through the zones, if we can do our own thing as a zones/region, it will be good for us. We don't really need the presidency that much; an Igboman will succeed under any system you create, we may not have amount to be president but I think we know that is good for an Igboman to become president. First of all, it will be in compliance with justice, equity and fairness, so if we allow an Igboman to be president, many things can happen because the Igboman can fix Nigeria using egalitarianism. You see, it is a believe that God created all man equal, if an Igboman becomes the president, we will not have the talakawas or the almajiris (respected poor northerners) because the Igboman believes or wants his children/apprentices to overtake him or try more that himself, therefore, with Igbo presidency or an Igboman at the top, Nigeria will experience explosive economic growth that will be good for Nigeria. But it is not good for people who want to have poor, uneducated, untrained people around to always serve them.
WAP: So, are you by any chance telling us that you are subscribing to the secession of Biafra?
No. I am telling you why I am not 'yet' subscribing to the secessions of south east states as Biafra state, but, why I fully understand those who are subscribing or clamoring for Biafra. I fully understand IPOB and MASSOB and I have sympathy for them but I do not at this moment want the disintegration of Nigeria because most of us the Ibos are traders and it makes us tour round Nigeria and the world and those who were here during the war knows that we suffered because our market systems suffered, even our taboo system were broken.
WAP: Chukwuemeka Odumegwu-Ojukwu, the Biafran war flag-bearer, do you think his course for a Biafran State was a noble one?
At that point in time, it was the best he could do because they were massacring his people in the north. If they are rampantly killing us in the north, what do we do? They rejected us, do we reject ourselves? No. therefore, we decided not to reject ourselves. You can blame Ojukwu that he does not have enough military and then started something that he can't sustain, that is the only blame anybody can give Ojukwu, but if I were in his position I may have done exactly the same thing and I just cannot blame him. But you see, we have our own fault, after the killing of Amadu Bello, do you know the song the Igbo boys were singing in the north agitated their anger. Remember I told you about our loud mouth, which is our lack of managing our success, even our coup success even though the coup was not planned by the Igbos alone.
WAP: It is almost 50 years now that the war has ended, do you think the Nigerian government has addressed the issues that led to the war?
No, not at all. That is the problem and the issues that led to the war are getting worse, there is no development in the country, there is unemployment, insecurity and comprehensive failure of governance in every respect. This time it is more ripe for the war that when we fought the war. So, the answer is No.
WAP: Do you think that Biafra state will do better than the Nigerian state if given the chance to rule themselves?
Well, for me, if it is the will of God, then Biafra will be it. But we are praying that things get better, and I believe Biafra will do better for themselves because our people of the south east are fantastic people and they have good managerial skills and they have ability to think ahead and create successes in every sector
WAP: What is your stand/take on this craves for Igbo presidency?
 It is clear, there is a recent paper I wrote and titled it "A Letter to Fellow Nigerians", in that letter , I said that we the Igbo, we beg and lobby every group in Nigeria (west, south, north east, north central, north west etc) and do what everyone expects us to do in order to win. Like uniting ourselves and give in only about 3 candidates instead of 1,000, we do what everybody expects from us but, if after having done what we should do and what we are expected to do, and our man does not win or they say they will not vote for us because we are Igbo, then we will take it that the rest of the Nigerians have rejected our being citizens of Nigeria and therefore, they have rejected us and being the Igbo, we will not reject ourselves and what follows is obvious. We cry for Igbo presidency in Nigeria and once we achieve that feat, we will know that justice have returned and with justice we don't go anywhere, we stay put and help build Nigeria, and the Igbo president should hasten the restructuring we are talking about.
WAP: Do you not think that the plan to restructure Nigeria will hinder the Igbo presidency from sprouting in Nigeria?
Ooh… then I don't know how you see the press. Restructuring is accepted by the whole of south east, by the whole of south-south, by the whole of the middle-belt, most of north east also accept restructuring, it is part of north west that rejects it, especially the Fulanis. Therefore, majority, more than eighty percent (80%) of Nigerians supports restructuring, but those who control the power in Nigeria do not. So, the plan to restructure Nigeria is already in the pipeline.
Sir, you once told us some time ago that you don't have a formal education but you surprised the world by coming top in your educational personality, how did you achieve that feat?
The truth is this; I did not go to a secondary school after my primary school, but by chance and happenstance, I got information about correspondence courses, so I started GCE ordinary level then got to the advanced level. Then I went to University College Ibadan (UCI) feeling inferiority complex and then to University of Ibadan, Faculty of Economics and Social Studies. I was surprised as I came top and became the faculty prize winner in my time and that was the time University of Ibadan was about the best University in Nigeria. I became a teacher in Makerere University, Uganda and also a teaching fellow, Harvard University.  So, my academic is not much but by the grace of God, it's fantastic.
You are going to be 82 years old come November 20th, how do you feel being 82, fulfilled?
Hmmm… I don't know. I am not as strong as I use to be and not as happy as I am supposed to be and I don't know if it is because of old age or because Nigeria is collapsing that makes me weak…(smiles) But I think the collapse of Nigeria is more troubling than my old age, but I will tell you this, old age has a problem and the greatest is memory lost. I see people like Edwin Clerk at 93 but still remember everything you tell him, but in my own case I am really trying my best. Although I feel good in my old age but will feel better if probably, the problem of memory weakness does not arise.
Finally Sir, what do you have to say about the recent ruffle in Anambra State between the state governor and some traditional rulers?
Well, the case about a governor suspending some traditional rulers in his state is clear because it is within the constitutional powers of the governor to suspend. But I am not going to make any judgment between the two parties because I have not studied the case enough, but because it gives me so much worry and causing problems for our campaign for Igbo presidency; I am working very hard to resolve that problem. I have contacted many Igbo leaders and together we will make things right.
Latest posts by Pilotnews
(see all)